Kerstin Schoene studierte Kommunikationsdesign
mit dem Schwerpunkt Illustration bei Wolf Erlbruch.
Bleistift, Kreide, Aquarell hat sie gern, ihr bester Freund ist aber
das Grafiktablett. Sie ist für verschiedene Verlage kreativ,
schreibt und illustriert auch eigene Kinderbücher.
In manch einem Werk versteckt sich dabei ein ganz besonderer "Dreh".
Sie lebt, unter Beobachtung eines Fellknäuels, in Haan.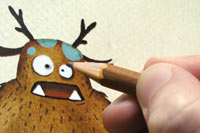 Kerstin Schoene studied communication design at Bergische University Wuppertal, Germany. She enjoys using pencil, chalk and watercolors, but currently her best friend is the graphics tablet. She draws for various publishers, and writes and illustrates her own children's books. She lives in Haan, Germany, under the watchful eye of a little ball of fur.